Welcome to the Gstaad Academy
Dear Musicians
In 2017, our Academy is all characterised by a pioneering spirit. With Gstaad Conducting Academy's new Artistic Director Jaap van Zweden, we will move this exclusive conducting-promotion programme to the next level. We'd like to welcome Jaap van Zweden at Gstaad Academy and look forward to numerous attractive musical projects and interactions.

Our "Neeme-Järvi-Prize", launched along with the 2015 event, will be continued under this new direction. The awardee of 2016, Joseph Bastian, will be conducting four of our partnering orchestras in the months and seasons to come: the Basel Symphonic Orchestra, the Basel Chamber Orchestra, Musikkollegium Winterthur, and the symphonic orchestra of Berne.

Apart from chief conductor Jaap van Zweden, we have recently also appointed a "Head of Teaching": Johannes Schlaefli is one of Europe's most renowned conducting professors and is heading a conducting class at music college ZHdK in Zurich. He will be supervising and heading the lessons throughout the Academy's entire term. Chinese conducting star Long Yu will be working with the students and Gstaad Festival Orchestra as a guest for one week.

At the Gstaad Academy we offer the complete range of master courses addressed to young professionals, as well as all the 'play@' courses which are aimed at amateur players of all ages.
Professional students can choose from a selection of customised master courses with opportunities of high-profile performance, while enjoying the platform of a leading international music festival which not only offers master courses but stages top-quality concerts on a daily basis.

In 2017, the String-Academy will be enhanced by professors Igor Ozim and Wonji Kim contributing to it again. An improvisation-workshop for string players offered by the Janoska brothers will complete the extensive programme. After a one year break, Sir András Schiff will be lecturing for the Piano Academy again and Silvana Bazzoni-Bartoli will be holding her Vocal Academy in the same week that Cecilia Bartoli performs at Saanen church (31 August).
Ambitious amateurs can count on an altogether joyful experience of practical music-making as well as experiencing spectacular concert performances.

All courses are directed by highly regarded musicians who have taken time off from their professional commitments for the sake of passing on their knowledge.

People's experiences at the Gstaad Menuhin Festival are also unique in being coloured by the magical environment of Switzerland's Saanenland countryside, one of the most beautiful Alpine foothill regions to be found anywhere in the world.

We would like the Gstaad Academy to remain linked in spirit to the founder of the Gstaad Festival, Yehudi Menuhin, whose friends and guests at Gstaad for 40 years included not only established artists like Benjamin Britten, Peter Pears and Maurice Gendron but also Menuhin's own students and young musicians of exceptionally promising talent.
Looking forward to the event with eager anticipation
Christoph Müller,
Director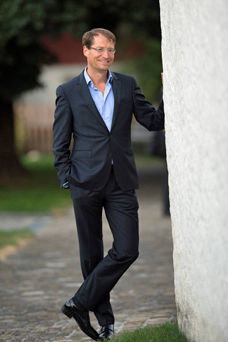 Christoph Müller, Director