Gstaad String Academy 2017
By now, the String Academy has become integral part of Gstaad Menuhin Festival. Excellent teachers like Igor Ozim, Wonji Kim, Ettore Causa or Ivan Monighetti share their knowledge and longstanding experience in one-to-one lessons

Of particular value for the students is furthermore the opportunity to perform alongside their professors. Being inspired by Yehudi Menuhin's approach, Gstaad String Academy follows the tradition of a final chamber music concert, involving one of the professors per each ensemble.

The master class will be open to public audition. Final concerts will take place at the Hotel Landhaus in Saanen and in the Chapel of Gstaad.

The active participants in the master classes will also have the opportunity to attend various outstanding concerts during the festival week (tickets based on availability and pre-booking).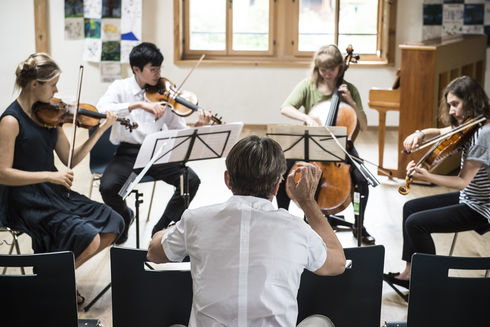 Lesson with Ivan Monighetti
String Academy: Ivan Monighetti with a string quartet
photo: Anne-Laure Lechat
Detailed daily lesson schedule
Public lessons & Final concerts
Event
Date
Time*
What & Where
*There might be last minute changes regarding the exact lesson time -
please find actual information directly at the venue or through +41 33 748 83 37. Thank you!
Masterclass
24.-27.7
10h -13h and 14h-16h
String Academy: lessons / masterclasses (violin, viola, cello and chamber music)
Hotel Landhaus and JFK School Saanen
Masterclass
28.7
approx. 10h -16h
String Academy: lessons / masterclasses (violin, viola, cello and chamber music)
Hotel Landhaus and JFK School Saanen
Workshop
28.7
15h-19h
String Academy: string workshop with the Janoska Ensemble ; After the ensemble
presents the Janoska Style they'll give a workshop regarding the forgotten art
of improvisation in classical music.
Masterclass
29.7
approx. 10h -16h
String Academy: lessons / masterclasses (violin, viola, cello and chamber music)
Hotel Landhaus and JFK School Saanen
Workshop
29.7
15h-19h
String Academy: string workshop with the Janoska Ensemble ; After the ensemble
presents the Janoska Style they'll give a workshop regarding the forgotten art
of improvisation in classical music.
Masterclass
30./31.7
approx. 10h -16h
String Academy: lessons / masterclasses (violin, viola, cello and chamber music)
Hotel Landhaus and JFK School Saanen
Concert
31.7
17h30
String Academy: Final Concert «L'Heure Bleue» (violin, viola and cello)
Hotel Landhaus Saanen
Concert
1.8
19h30
String Academy: Final Concert «chamber music»
Gstaad Chapel, Free admission with a collection
Concert
2.8
17h30
String Academy: Final Concert «L'Heure Bleue» (violin, viola and cello)
Hotel Landhaus Saanen
String Academy - Final Concert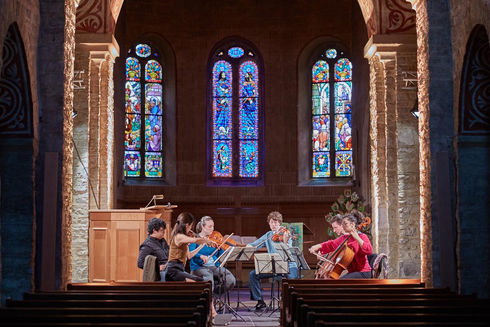 String Academy: Rehearsal in Church of Rougemont
(Foto: Ettore Causa)
Professors
Ivan Monighetti, Violoncello
Janoska Ensemble, Workshop
Repetiteurs: Lorena Tecu & Akane Matsumura & Mira Wollmann
Place
Hotel Landhaus, Saanen / John F. Kennedy International School, Saanen
Period 2016
23 July - 02 August (first public lessons on 24 July)
Registration deadline: 28 February 2017