Course content
General Information about the course offer
Gstaad Conducting Academy provides talented young conductors the chance for three weeks of conducting training instructed by professors in cooperation with the Gstaad Festival Orchestra.

In the course of the Academy in Gstaad and vicinity the highly professional and renowned Gstaad Festival Orchestra (GFO - Orchestra in Residence, concertmaster: Vlad Stanculeasa) is available during approximately 18 days for conducting classes.
The participants get instructed by professors Jaap van Zweden (Artistic Director) and Johannes Schlaefli (Head of Teaching).

Once a week a final concert takes places (altogether 3 times), which is conducted by selected active participants. In addition, active participants have the opportunity to be selected as a conductor for a concert in the official festival programme.
Besides the lessons the participants get also offered other contents like conducting in piano lessons, video analysis, analysis of scores, lectures, etc.

Almost all lessons and concerts with GFO are recorded on video in professional quality. The whole video material is made available for the participants (for video analysis, for self-study or for the purpose of applications).

Moreover the Gstaad Menuhin Festival offers parallel to the Academy daily events on highest level. For participants all events are available for free (tickets according to availability).
Gstaad Conducting Academy content for active participants:
conducting the Gstaad Festival Orchestra in the scope of rehearsals and concerts
training given by the Academy's professors
coaching sessions with répétiteur
lessons in analysing and arranging scores
participants will be supervised by important representatives of the orchestra and the festival management
free entrance to the concerts played at the festival (tickets according to availability)
Gstaad Conducting Academy content for passive participants:
complimentary admission to the classes with orchestra open to the public
access to internal courses held for active participants (e.g. video analyses)
video analysis and evaluation
coaching sessions with répétiteur
discussions and lectures about various subjects (in the presence of the professors, the Festival Intendant, etc.)
complimentary admission to the Festival concerts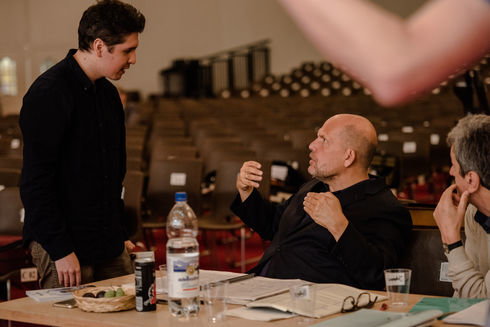 Jaap van Zweden & Johannes Schlaefli with Gonzalo Farias (2017)
(Photo: Eve Kohler)
Valery Gergiev with Neeme Järvi at the Gstaad Conducting Academy 2016
(Photo: Raphaël Faux)